TriVerity & The Loan Service Center provide skill sets that combine resources, experience, talent and collection best practices that can be trusted to get the job done. The companies have developed a culture that has redefined the collection industry by providing financial institutions with better tools for debt recovery.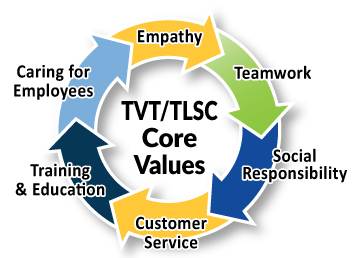 OUR VALUES
Treat the delinquent consumers we work with every day the way we would want to be treated if we found ourselves in a similar situation.
Maintain a workplace culture that fosters open and honest communication, teamwork, trust, fun, respect, appreciation, hard work, accountability, shared values and results.
Be socially responsible.
Provide a level of customer service that results in being recognized as an industry leader.
Provide our people with the best training in the industry.
Provide our people with a flexible work schedule that puts family first.
OUR MISSION
To exceed our client's expectations in terms of dollars recovered and thoroughness in pursuit of their delinquent accounts.
To exceed our client's expectations in terms of customer service by providing timely and accurate communication on their accounts and by demonstrating a genuine concern for the profitability and growth of their organization.
Employee Relationships
To provide the opportunity and the environment for the employees of TriVerity and The Loan Service Center, Inc. to grow personally and professionally within our organization.
To instill in our people an attitude of personal responsibility for the level of opportunities available to them within our organization.
To financially reward and recognize those individuals who demonstrate a desire and the ability to contribute to the company's goal of profitable growth.
Customer Relationships
To deal ethically, compassionately and fairly with customers who are making an honest attempt to repay a debt.
To maintain a professional demeanor with those customers who refuse to pay their debts voluntarily.
Vendor Relationships
To expect our vendors to strive to meet the same standards we demand of ourselves in our client relationships.
To treat our vendors as we would like to be treated.
Community Relationships
To give some of our time, talent and money back to the communities and institutions that support us, regardless of profitability.